Cannabis Friendly Thanksgiving 2020 Guide
Planning on hosting a great Thanksgiving this year? If so, we've got Your Cannabis Friendly Thanksgiving 2020 Guide!
From what to cook and bake, to what to sip on and offer your guests – we know you're going to have the best Thanksgiving ever.
For some, it's all about the turkey and mashed potatoes, but for others, Thanksgiving pie is where it's at. Either way, we've got you covered in the Cannabis department.
What Are You Thankful For?
With US States like Arizona, Mississippi, New Jersey, Montana and South Dakota recently legalizing Marijuana, we bet we know what Cannabis lovers there are thankful for!
Thanksgiving, typically is a time of thanks, gratitude and now? Ganja.
At long last, it seems as though the world is finally waking up to realize that besides giving you ultimate high's and edible experiences, it's medicinal benefits are bar-none.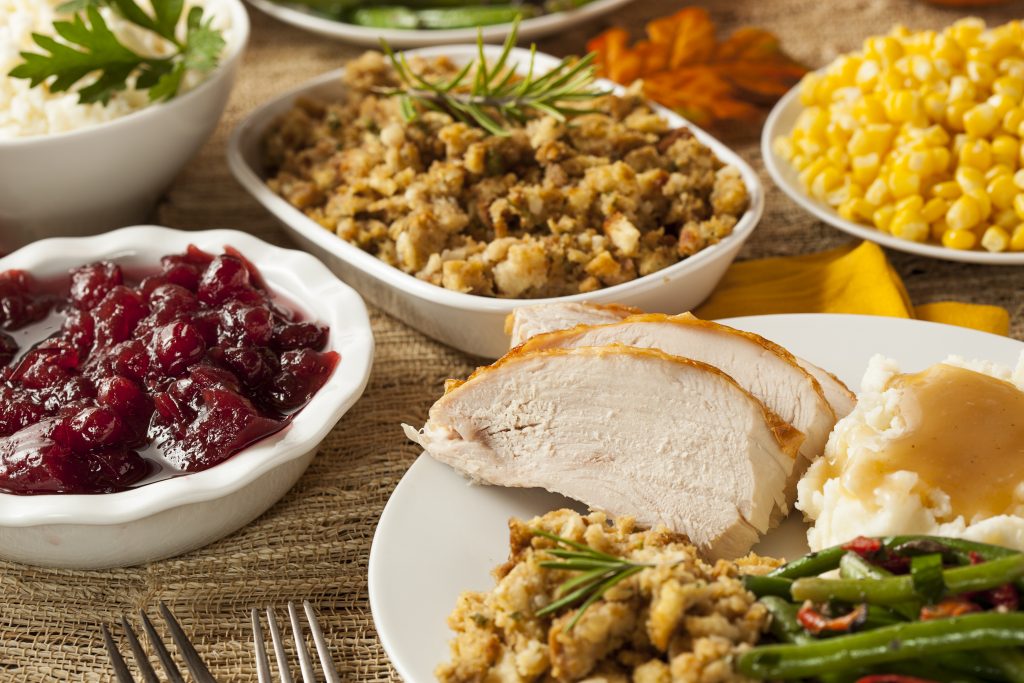 A Cannabis Friendly Thanksgiving 2020 Guide
You'll need to prepare your 'Danks-Giving' menu and our recipes below have everything you need from start to finish to make it absolutely dank.
Consider asking everyone to bring a weed-treat and do a small Cannabis gift exchange. Everyone wins with weed!
Drinks – we have some fabulous CBD and THC cocktails to show you that are tasty, easy, and 'highly' fun to sip on and make.
Planning on puffing? Play a fun game with everyone who's partaking. As you toke, recite one or two things you're grateful for this year.
Preparation is key for Thanksgiving, so here's a list of things you'll want to have prepared in advance:
Cannabis Butter ( you can make this a few days ahead)
Cannabis Oil ( make this in advance too)
Cheesecloth – if you need to decarb more weed, have cheesecloth handy in the cupboard
Nothing says Cannabis Chef like the proper tools and utensils. Make sure you have everything you need in advance so that when the big day comes? You're good to ganja!
Let's Cook Turkey With Cannabis!
The first thing we'll get ready is a slow-roasted Cannabis butter turkey because they take the longest, and once the turkey is ready, you can start on the rest.
It will take about 9 hours from start to finish, so if getting up early isn't your thing, you may want to do a little prep the night before.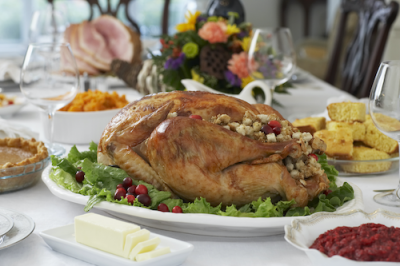 Author: Steph Van De Ven
Ingredients
1 whole turkey (12lb/5.5kg)

1 cup Cannabis butter

1 large onion diced in small cubes

3 medium carrots diced in small cubes

5 garlic cloves diced small

14 ounce packaged bread stuffing cubes

1 Tbs dried thyme

salt to taste

Pepper to taste

1 tbsp Paprika powder

1 tbsp oil
Instructions
In a medium bowl, combine bread stuffing cubes together with carrots, onions, garlic, thyme and salt to taste.

Melt 1 cup cannabis butter and use half to combine in the stuffing mix.

Use the other half to put in a turkey syringe and inject the turkey with cannabis butter from different angles.

Fill your turkey with your cannabis stuffing and season rub whole turkey with salt, pepper, paprika powder and a tbsp of oil.

Preheat the oven to 180 F.

Place turkey in the oven and let it slow cook for 9 hours.

Check the temp of the thigh meat and the thickest part of the breast.

If they aren't at 64ºC yet then give it more time.

Once fully cooked, crank the oven up to 350F and let it roast for 15-20 minutes until golden brown and gorgeous.
While your Thanksgiving turkey is roasting, you can start preparing the side dishes and edible desserts! Yum!
You are either a pumpkin pie lover or hater – so if you hate it, skip it! But if you can already taste it in your mouth, here's the BEST cannabis pumpkin pie recipe ever!
Cannabis Pumpkin Pie For Thanksgiving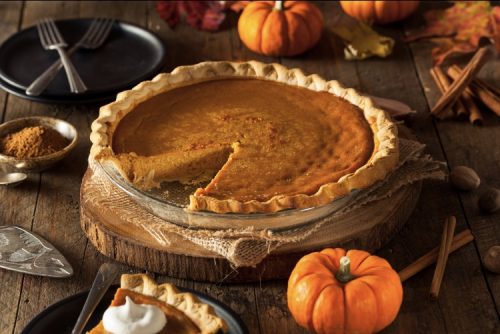 Author: Steph Van De Ven
Ingredients
1 unbaked pie crust

1 (15-ounce) can pumpkin purée

1/2 cup granulated sugar

1/2 cup packed brown sugar

1/2 teaspoon salt

2 teaspoons ground cinnamon

1 teaspoon ground ginger

1/4 teaspoon ground nutmeg

1/8 teaspoon ground cloves or allspice

3/4 cup whole milk

3/4 cup heavy cream

1/4 cup Cannabis butter

3 large eggs

1 teaspoon vanilla extract
Instructions
Line the pie crust with parchment paper or aluminum foil.

Bake until the edges just start to brown, 12 to 15 minutes on 400F. Remove from the oven and keep near the stove.

Place the pumpkin purée, granulated sugar, brown sugar, salt, cinnamon, ginger, nutmeg, cloves or allspice in a food processor fitted with the blade attachment or blender.

Blend until the brown sugar is completely mixed in and the purée looks glossy.

Transfer the mixture to a large saucepan and place over medium-high heat. Stir frequently until incorporated for 3 minutes.

Remove the pan from the heat. Whisk in the milk, cannabis butter and cream.

Once the mixture is cooled off a little, slowly whisk the eggs into the saucepan with the pumpkin mixture until smooth.

Whisk in the vanilla.

Carefully pour the warm pumpkin mixture into the warm pie crust.

Carefully transfer the baking sheet with the pie to the oven on 350F for 50 to 60 minutes.

Let the pie cool to room temperature before serving — it will continue to set as it cools.
Then comes the side dishes baby! Check out our Top 5 Cannabis Side Dishes & Drinks For Thanksgiving below.
Top 5 Cannabis Side Dishes & Drinks For Thanksgiving
Cannabis-Infused Gravy
Cannabis Cranberry Punch
Weed-Infused Sugar Cookies
Cannabis-Infused Pumpkin Spice Latte
Cannabis Butter Tarts
Happy Danks-Giving All!